Miranda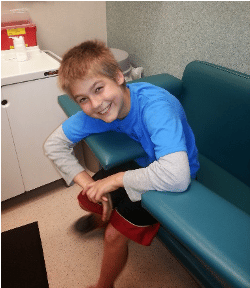 Our son, Hunter, was diagnosed with cancer at the age of 9 in 2014. Hunter received standard therapy in our local hospital but the cancer metastasized. At this point in
2016, Hunter was referred to a pediatric oncologist. He continued to be resistant to therapy and the cancer spread to his lungs. Eventually, Hunter underwent genomic testing for NTRK gene fusions but we had to advocate hard to get this funded by our insurance company. As a trained counsellor, I am keen to support families and patients and want more information out there on managing the financial hurdles. No parent should be battling costs at a time like this.
I am a member of an oncology parents' group, which is a fantastic network but Hunter's journey is pretty unique. We find it helpful to connect with others who have the same goals and questions around NTRK gene fusion cancer.
Hunter is a teenager now, trying to live a normal life at school, while fitting in monthly clinic visits 1300 miles away. As more people join the NTRKers, I'd love to hear how we can help increase peer support for parents and kids – how we can support and mentor each other.